Dec 12, 2020
Local couple opening second Elements Massage studio in the Horn Pond Plaza on the Woburn/Winchester line on Saturday, December 12
Woburn, MA (December 12, 2020) – Elements Massage®, the nation's leading massage brand that personalizes every massage to meet client's needs, is opening a new studio in Woburn, MA on Saturday, December 12, 2020, with a special Founding Membership Offer. Until January 31, 2021, Clients can opt-into a one-year monthly membership for $69 per month, which is a one-time offer that is available only until January 31, 2021. The studio is independently owned and operated by Joyce and Scott Speicher, Lynnfield residents, who own two Elements Massage locations in the Greater Massachusetts Area.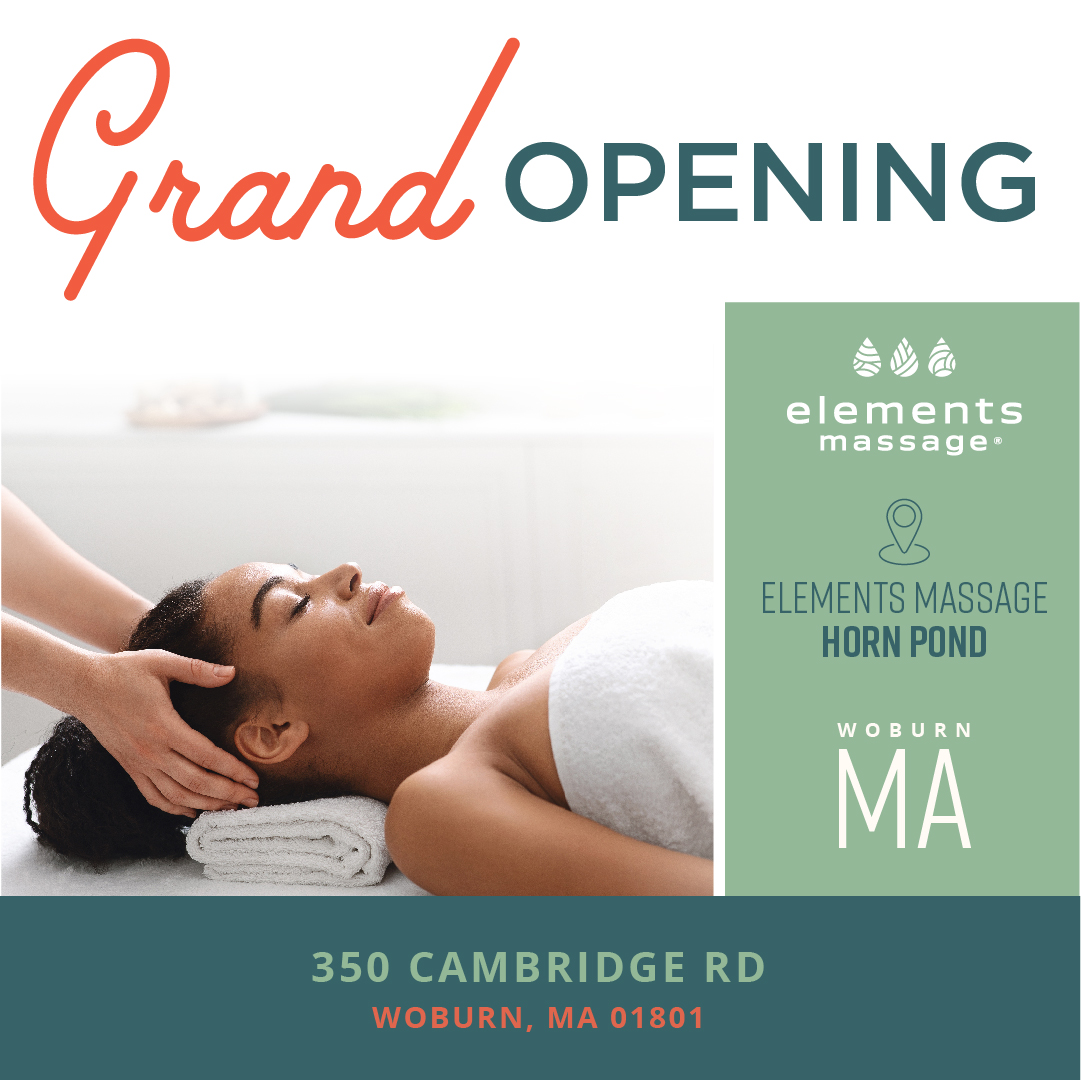 Joyce is a talented entrepreneur who started Wiggles and Giggles, a pre-school enrichment program that has been instituted in pre-schools throughout the Northshore area. Due to the recent pandemic, Joyce has been unable to operate Wiggles and Giggles, and is instead supporting the opening of the Horn Pond Elements Massage studio. Scott has been working as a consultant in the information technology field for many years and is a long-time client of the massage industry. He opened his first Elements Massage studio in Saugus, MA three years ago.
"As a massage client, I was aware of the highly-rated personalized services provided at Elements Massage. As a project manager, I was looking for a franchise opportunity that had a great playbook and support from the franchisor" said Scott. "When we inquired about the Elements Massage franchise, we learned that the Support Center was looking to open a new studio in Saugus just a few miles from our home. At that point, we knew it was meant to be."
According to the Speicher's, what makes their Elements Massage Studios so special is their ability to consistently provide a safe experience, where clients can expect the highest quality services, and leave the studio feeling wonderful. "We have an amazing team of employees and bring a family atmosphere to our studio," said Scott.
Additionally, as franchisees what the Speicher's love most about the Element Massage brand, is the guidance from the Support Center. "Everyone is so accessible and willing to help in any situation," said Scott. "The team at the Support Center is rooting for your success, and their backing contributed heavily to our Saugus studio's early success. The Support Center team made sure we knew how everything was supposed to run before we opened, which made us feel confident that we could operate this business at the highest possible level."
Notably, Scott and Joyce's first Elements Massage Studio location in Saugus was awarded the Strongest Franchise Opening Award in 2018 by the Support Center.
Elements Massage provides clients with a highly customized, therapeutic massage experience through its industry-leading, proprietary membership platform, the Elements Wellness Program™. The brand employees a highly trained staff of licensed massage therapists, who are and matched with clients based on their specific needs.
Elements Massage – Horn Pond is located at 350 Cambridge Road at the Horn Pond Plaza in Woburn, MA 01801. The studio is open Sunday through Friday 9 a.m. to 9 p.m., Saturday 9 a.m. to 7 p.m. For more information please call (781) 281-0677 or visit elementsmassage.com/horn-pond to book an appointment online.
About Elements Massage®
Elements Massage® is one of the nation's premier massage therapy brands, with over 250 locations across the United States and Canada. Elements differentiates itself by providing consumers with a highly customized and therapeutic massage through its industry-leading membership program, the Elements Wellness Program™. The Elements Massage brand has been recognized as part of Entrepreneur's Franchise 500 Ranking, Inc 5000 list, Forbes list of America's Best Franchises and Newsweek's list of America's Best Companies for Customer Service.
Members at each studio benefit from a highly rated massage service on a month-to-month basis. As a high growth franchise brand, Elements Therapeutic Massage, LLC offers franchise ownership opportunities in select territories across the country. To learn more about Elements Massage® and franchise ownership opportunities, visit www.elementsfranchise.com.
###