Sep 8, 2021
DENVER, CO (Sept. 7, 2021) – The Elements Massage® franchise system, one of the fastest-growing therapeutic massage franchises in the nation, awarded, Kayla Flohre, with a $10,000 cash award as part of the brand's "Summer Celebration!" The brand launched the "Summer Celebration" to honor and recognize Elements Massage studios' Massage Therapists and Team Members for all they do to help provide the healing benefit of massage therapy to clients. In total this summer the brand gave away twenty-five thousand dollars' worth of cash and prizes to studio team members across the country!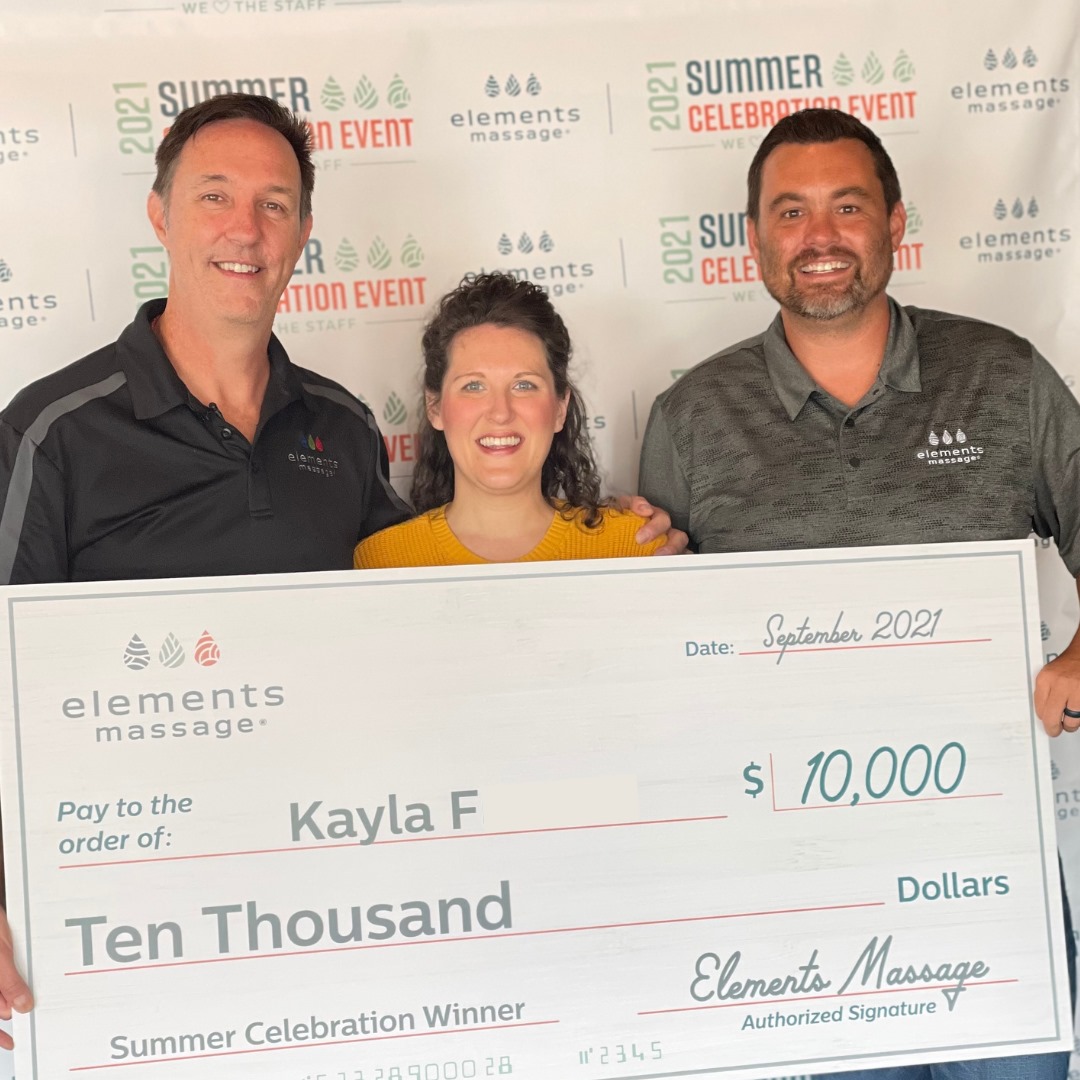 Flohre has worked as a licensed Massage Therapist for the Elements Massage brand for eight years. During her time with Elements Massage, she has performed over five-thousand massage services. She chose the massage therapy profession because of her appreciation for the healing power of massage therapy. She chose to work for Elements Massage because of its unmatched commitment to delivering the best therapeutic, healing massage experiences for both clients and massage therapists.
"My mom is an Occupational Therapist and so I grew up with a respect and passion for the healing power of touch and therapy. I've been a licensed Massage Therapist for many years, and it's been such a great career for me," said Flohre. "I love working at my Elements Massage location because they, along with the brand, give Massage Therapists the tools they need to support them both personally and professionally."
The Elements Massage brand was started over fifteen years ago by a Massage Therapist with the goal of providing the therapeutic and healing benefits of massage therapy to every client. Today, the brand remains exclusively focused on massage and delivering a personalized experience to meet each client's needs on every visit. The brand currently has an impressive 81 percent Net Promoter Score, reflective of the high-quality, personalized experience.
"Acts of appreciation and words of gratitude are at the heart of the Element Massage brand. It's why the brand launched the 'Summer Celebration.' After such a tumultuous time, we wanted to show our deep appreciation for studio teams' dedication to clients' health and well-being," stated Eric Stephenson Element Massage's Chief Wellness Officer. "I'm so excited that Kayla was awarded with our Summer Celebration grand prize of ten-thousand dollars! With close to a decade as a Massage Therapist at Elements Massage and over five-thousand massage services performed, she truly embodies the culture of the brand!"
Every independently owned and operated Elements Massage® studio is only as great as its people. Each studio owner strives to create a comfortable atmosphere and environment where studio teams are inspired to change lives—including theirs. Although benefits vary by studio, many studios offer various benefits, including:
Competitive pay, gratuity, and service enhancement commissions
Unparalleled career advancement opportunities for Massage Therapists
Booking, laundry, and other support processes.
Flexible scheduling supporting career longevity
A focus on therapist self‐care
Paid CEUs – online and in‐person
To find a career opportunity near you visit: https://elementsmassage.com/careers-home
###
About Elements Massage®
The Elements Massage® brand is one of the nation's premier massage therapy brands, with nearly 250 independently-owned locations across the U.S. and Canada. The brand differentiates itself by providing consumers with a highly-customized and therapeutic massage through its industry-leading membership program, the Elements Wellness Program™. Members at each studio benefit from a highly-rated massage service on a month-to-month basis. As a high-growth franchise brand, Elements Therapeutic Massage, LLC offers franchise ownership opportunities in select territories across the country. To learn more, visit www.elementsmassage.com. Elements Massage® is a registered trademark owned by Elements Therapeutic Massage, LLC. Each Elements Massage® studio is independently owned and operated.
MEDIA CONTACT:
Jody Ryan
Elements Massage
(602) 614-0744